Lowe's Home Centers
Filed under Markets: cases and Markets: Retail
With overloading problems in their legacy data center in North Wilkesboro, North Carolina, and with no room for additional growth, Lowe's negotiated the acquisition of the 20- year old former US Airways reservation center in Winston-Salem, North Carolina, about fifty miles south. The existing facility housed 60,000 sq. ft. of raised floor on three levels and was equipped with its original UPS and generators. Lowe's renovation goals were to develop 40,000 sq. ft. of 30-36" deep raised floor with a Tier III infrastructure at 40 w/sf initially growing to 60 w/sf with expansion.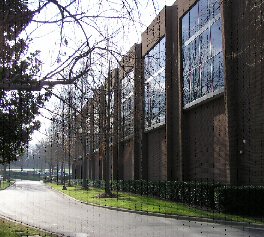 While the facility was designed as a mainframe data center, the existing systems were not able to support and maintain Lowe's enterprise with the sole exception of the standby generators. A completely new central power and cooling plant was installed to provide concurrently maintainable systems capable of 7×24x365 support of Lowe's main retail transaction and store management systems. The entire project was completed and commissioned in less than 8 months.
Both the cooling and critical power systems were designed with two completely redundant systems. The UPS System consisted of 2 sets of 2-1000kva/900kw UPS modules providing 1800kw of capacity across 40,000 sq. ft. – or 45 w/sf. The chilled water plant consisted of 2-1000 ton chillers capable of supporting the critical power loads plus the non-critical office and support space on the third floor.
The top floor was designed to support office, lab and test, staging and storage areas. Overall, the facility is 86,000 sq. ft. including electrical, mechanical and functional support areas.
With fiscal year 2004 sales of $36.5 billion, Lowe's Companies, Inc. is a FORTUNE® 50 company that serves approximately 11 million customers a week at more than 1,125 home improvement stores in 49 states. Based in Mooresville, N.C., the 59-year old company is the second-largest home improvement retailer in the world.