Brasil Telecom Enterprise Data Center
Filed under Markets: Telecom
Brasilia, Brazil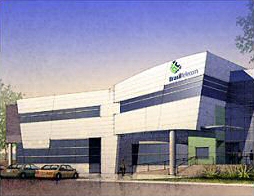 Brasil Telecom's new Data Center will be a state-of-the-art, 24×7 facility supported by office areas and a high-reliability mechanical/electrical plant. The design represents their vision for capabilities, capacity and growth.
Architecturally, the building reflects the high-technology character of the activities housed within. Planning reinforces Brasil Telecom's customer-focused reputation, with the facility open and accessible to customers as part of the strategy for marketing technology services. Complementary to that openness are extensive security measures in and around the facility.
Located in the political capital of Brazil, the Brasil Telecom data center provides customers hosting, co-location, IP connectivity, tier1 peering, and the highest level of security and redundancy. Services provided included supporting the facilities architectural and engineering design team in coordinating the requirements of the IT business objectives and application platform requirements with the facilities systems.
Firm of Record: Ellerbe Becket